History/Memorium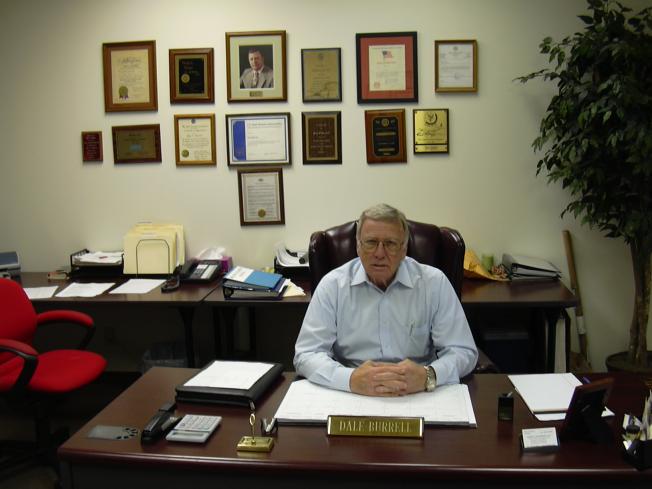 President and CEO of Burrell Enterprises, Dale F. Burrell is the epitome of the American success story. He was the oldest of four children born and raised in Kennesaw, GA. His father and grandfather sold bibles for a living. Growing up, he held many jobs ranging from making ice cream sundays to bagging groceries. A high school dropout, he joined the military at age 17 and spent three years in the Army. After being discharged, he worked for Scientific Atlanta for several years. The knowledge and experience he gained there motivated him to start his own business.
In 1966 with a $200 loan from a friend, he started his first business in his basement with a drill press and a belt sander. Burrellco was formed and what began as a part time job for extra money soon turned into a full time business with several employees. In the mid 1970s Mr. Burrell branched out into other markets and developed a host of other ventures. By 1980, Burrellco had become the national leader in aerospace fuel cell fittings and in 1984 was the largest contract machine shop in Cobb County Georgia. His business had grown from the basement to over 100 employees, four companies, and nearly $5 million dollars in revenue was generated. In 1984, Mr. Burrell was awarded "Small Business Person of the Year" by Cobb County Chamber of Commerce and in 1988 after such a phenomenal career, Mr. Burrell sold Burrellco and its subsidiaries and decided to retire.
After nearly 12 years, Mr. Burrell and his wife Judi decided retirement was not quite the challenge that he was used to and he wanted to establish and build one
more business. In early 2000, Dale and his wife Judi forged ahead with what is now known as Burrell Enterprises, Inc. We specialize in the Aerospace Manufacturing industry, but service the needs of many other industries as well.
Mr. Burrell has been directly responsible for the creation or revitalization of more than 15 businesses in the Kennesaw area. He has steadfastly supported his community through active leadership in both civic and business organizations, and by dynamic encouragement of development and growth has performed a significant role in the advancement of this community. He has been awarded countless awards and accolades for his exceptional leadership and involvement in professional, commercial, and civic organizations of all types.
An entrepreneur in the very finest sense of the term, Mr. Burrell unselfishly shares his knowledge with the younger generations of schools, colleges, and vocational/technical institutes. His success is based on an unshakable belief in the American work ethic, sound management, and the unified efforts of a talented group of employees.
"Small Business Person of the Year" Recognized as "Distinguished Citizen" SBA "Award for Excellence" Letters of Appreciation Certificates of Recognition "Spirit of Georgia Award" "Whos Who in Georgia" "Outstanding Service Award" "Award for Patriotism" "Outstanding Participation Award" Twin Engine Private Pilots License Stock Car "Limited Sportsman Division Champion" Honored by the City of Kennesaw for 30 plus years of service to the community.
Dale F Burrell, age 80, passed away on April 12, 2020.
He was a man who believed that there was a solution to any and every problem. He was a true visionary with an amazing drive in his business ethic that was the key to the companies success. He believed in going beyond customer expectations to provide the higest level of quality products and customer service. These qualities are what he instilled in each and every employee so they would carry on the same customer-first philosophy adopted from the beginning. He will be missed by everyone who knew him personally as well as those who worked with him throughout his professional career.